Tech Week 2020 Computational Thinking Challenge
This year, Tech Week introduces a fun activity for teachers to promote computational thinking in a way that highlights student abilities. Adapted from the Bebras Challenge, you can expect different types of interactive problems ranging in difficulty and print a certificate at the end with your score!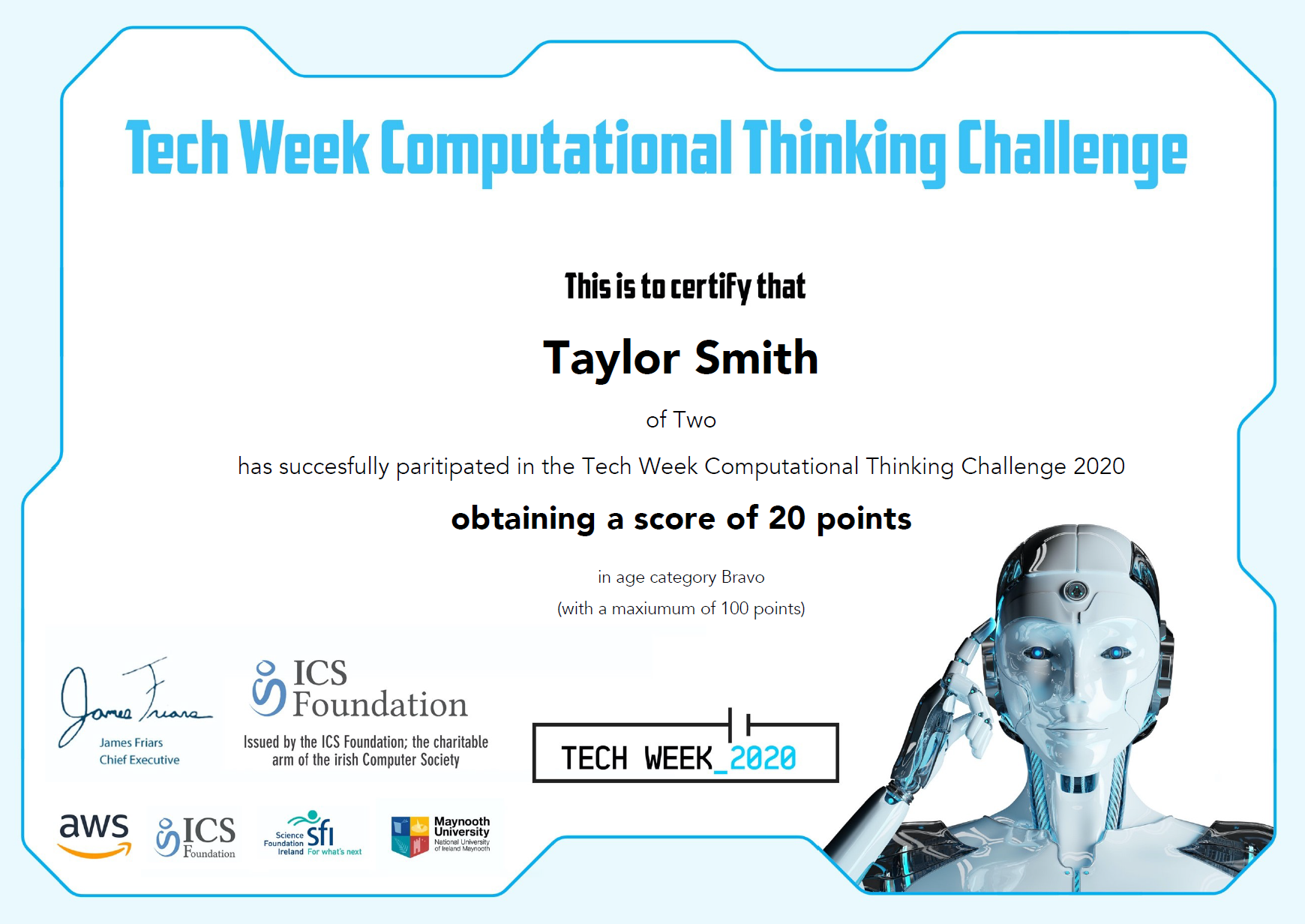 The Tech Week 2020 Computational Thinking Challenge will only be live from 28 March - 03 April !!Get involved!
Are you a Teacher or Parent or Student?
Due to school closures we will allow parents and students to register as a temporary coordinators here**.
Ready to get started?
Click on Login then insert your username and password from your teacher.
To start, click on Challenges in the top menu, and choose the correct category.
The challenge is made up of 14 questions and you have 25 minutes to complete the challenge.
All questions are initially indicated as "Not Answered"; this will change once you have selected your answer.
You may change your answer at any time, and may complete the problems in any order.
There will be an option to erase your answer, which will appear as the last option in all multiple-choice problems.
Now you are all set, so get working on it and above all…. have fun!
Download your certificate
Get your registered coordinator to login back in.
In the Export files window, beside Results Tech Week Computational Thinking Challenge 2020, click Download certificate
An Adobe PDF file containing the personal certificates for all your students will be downloaded which you can print for your class.
Once students get hooked in this challenge, teachers get them involved in the Bebras National Challenge which will go live this year from the 2nd – 13th November 2020*.
Give your students a head start on Bebras with our Tech Week Computational Thinking Challenge!
*Learn more about Bebras Challenge here
A note on scoring:
The questions are grouped under three levels of difficulty: A (Easy), B (Medium) and C (Hard). You will find the difficulty level of each question in the overview before you click on it.
** By registering for this fun challenge, you agree to receive valuable emails regarding the latest and greatest updates on the Bebras Challenge and Tech Week Ireland, from the ICS Foundation.